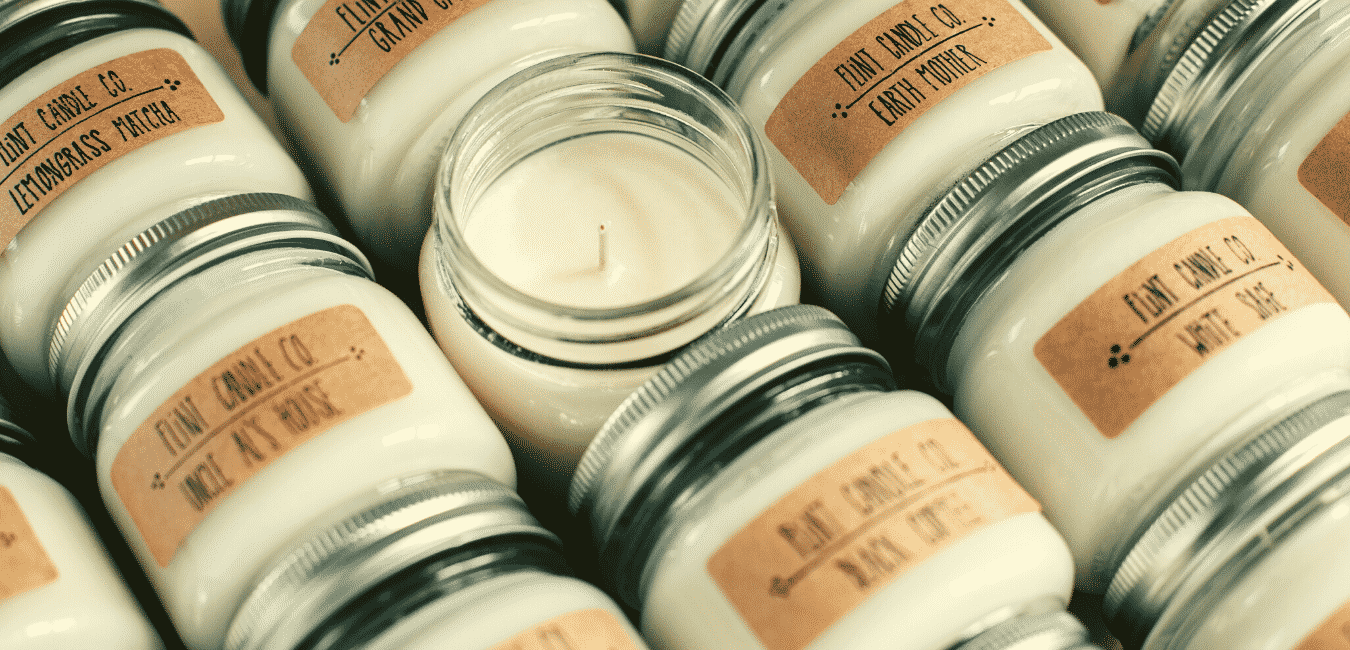 Our Story (about us page)
Lindsay Decker founded Flint Candle Co. while at a personal crossroads in 2015. She had just finished a soul-searching road trip around the country and was trying to figure out where she wanted to take her life next. At the time, her mother had been selling vintage items at local antique stores. One of the owners mentioned that they "don't have any candles to sell in our shop!" – and so, the spark happened.
Lindsay spent the following months learning all about the art of candlemaking. She fell in love with the craft. "There's a science to it that's really fun."
A few months later, and Lindsay was ready to share her passion with the world. She opened her first Etsy shop and signed up for local craft shows and farmer's markets. This passion for candlemaking carried on for nearly half a decade before her brother Jacob asked to be business partners.
In the summer of 2019, Jacob built an online presence beyond Etsy bringing the Flint Candle Co brand a bit more into the light. "Seeing the passion my sister has for candlemaking made me realize how successful the brand could be. The potential is limitless."
With 2020 coming fast, we started "seriously discussing" making this "a real thing" and taking the business to a bigger scale. "I sat down with Lindsay and said, 'is this a hobby for you – or is this something you see yourself doing for a lifetime?' with a clear 'hell yeah it's a lifetime thing.' as a response." We started working with Hayley, Jacob's fiancee. She was closely involved with multiple business ideas and business planning along the way. In January 2020, the three of us formally became business partners for Flint Candle Co.
2020 proved to be the biggest year ever for Flint Candle Co. We successfully took the brand from a local favorite to a national phenomenon. Surpassing 10,000+ orders from over 8,500+ customers was more than any of us could have dreamed of. It still blows our mind to this day to see people from all over the country ordering our stuff.
Expanding our business was a major part of our success. We had to hire family and friends just to keep the candles coming. With COVID-19 impacting the planet, we had to find creative ways to overcome the setbacks of essentially starting a business while working from our basements.
Part of this success meant defining our long-term goals, too. We all had our own ideas for the business and the opportunities it could afford us. With deep roots in Flint, MI – we knew we needed to focus on our community. We've taken a pledge to work with local makers and entrepreneurs to empower them to take the leap, as we have. We have (and plan to do many more!) worked with local organizations to donate a portion of our proceeds to great causes. We also wanted to show the world how awesome the Flint, MI community is – by joining forces with local businesses we have already had a few collaborations.
So, thank you to you – yes, you! This has been one of the most exciting years of our lives and we cannot wait to see what the future holds for us here at Flint Candle Co.
…I'll come back and update this in 2022 – see you soon!
Co-Owner, Marketing, Operations & Technical Director
Co-Owner, Operations, Human Relations
Click here to send us an email.
We are online only. We do not have a retail location. If you would like to smell our goods in person, please check out our stockists page for local retailers near you. Keep up with us on social media as we frequently attend local craft shows and art fairs.
Want to send us some love-mail?
PO BOX 13516
Flint, MI 48501